Employee resource groups (ERGs) exist at 90% of Fortune 500 companies, and that got us wondering: Just how effective are these groups for women? Fairygodboss asked 400 women about the value (or lack thereof) they've found in joining their women's employee resource group at work.
The results were mixed, and while there is a lot of positive feedback, women are still finding that these groups can be a waste of time — if they are able to find the time to participate in them at all.
Surveying only women whose employers offered internal women's networking groups, we found that 65% of survey respondents did, indeed, say they belonged to their women's ERG. Encouragingly, 70% of women who belonged to their ERG said when utilized, it was responsible for influencing changes in policy at their employer. The top policy changes achieved by women's resource groups included improving parental leave benefits (55%), advocating for a more flexible work schedule or vacation policy (53%), and establishing a mentor or sponsorship program (44%).
While it's clear that ERGs can create positive change, it's still troubling that many women said they found them to be a waste of time or quite simply didn't have the time to commit to them in the first place. Even more troubling is that nearly 33% of women don't join their women's ERG because they feel it's too highly controlled by human resources, resulting in a lack of transparency and honest dialogue.
The top reasons women do not join their company's women's ERG include: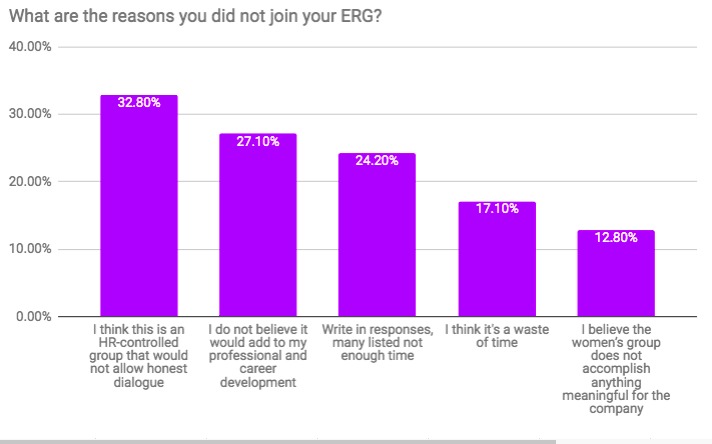 So, how can employers make these groups more worthwhile for women to join? Fairygodboss is convening a summit in New York on Nov. 1 and 2 with more than 50 companies' internal women's networks to discuss the role of women's employee resource groups and how to make them more effective and relevant. According to our survey respondents, employers can start by offering more professional development resources like continuing education (53%), providing more networking opportunities (44%), and investing in mentorship (42%).

Join our community in this conversation about women's employee resource groups and share whether your women's networking group at work has been effective, and how to improve it!