10
Because of the potential for conflicts of interest, Ivanka Trump isn't technically allowed to promote her pseudo-feminist (at best) new book, "Women Who Work" — but someone else is doing a rather marvelous job of promoting it for her.
Albeit, not in a way the First Daughter would likely endorse. A man on Twitter snapped a photo of a book display bearing Trump's title at a Barnes & Noble in Long Beach, California. And the books that have been arranged next to it are quite simply perfect.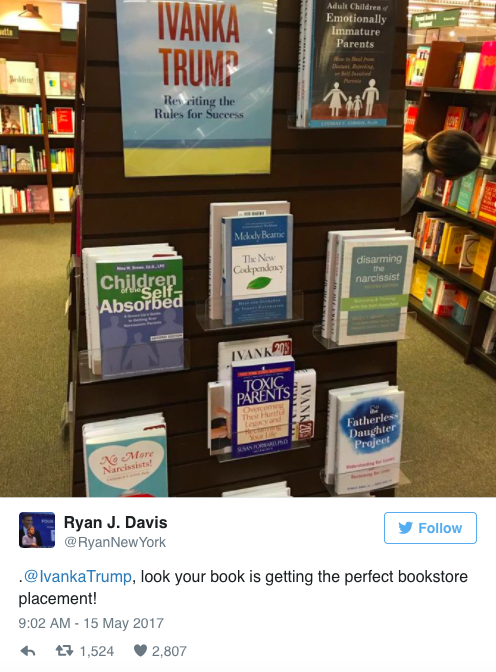 (Source: Twitter)
A few of the cleverly placed titles include: "Adult Children of Emotionally Immature Parents: How to Heal from Distant, Rejecting, or Self-Involved Parents" by Lindsay Gibson; "Children of the Self-Absorbed: A Grown-Up's Guide to Getting Over Narcissistic Parents" by Nina Brown; and "Toxic Parents: Overcoming Their Hurtful Legacy and Reclaiming Your Life" by Susan Forward, with Trump's "out of touch," elitist career guide peeping out behind.
A librarian, Chloé Pascal, has since taken credit for the display, telling The Cut: "I was acting in my role as a cheeky bookstore customer."
Well played, Cheeky Chloé. Well played.