4.87k
Journalist & travel blogger
Not sure what to wear to your next interview? It's easy to turn to social media for inspiration, as it's peppered with style gurus. But how do you know if the outfits these influencers are wearing are appropriate for your particular job interview?
To that end, we asked stylists to grade nine interview outfit inspirations sourced from influencers' Instagram pages. Here's what they had to say about the looks that hit interview-attire gold — and the ones that definitely didn't.
1. The Little (Bohemian) Black Dress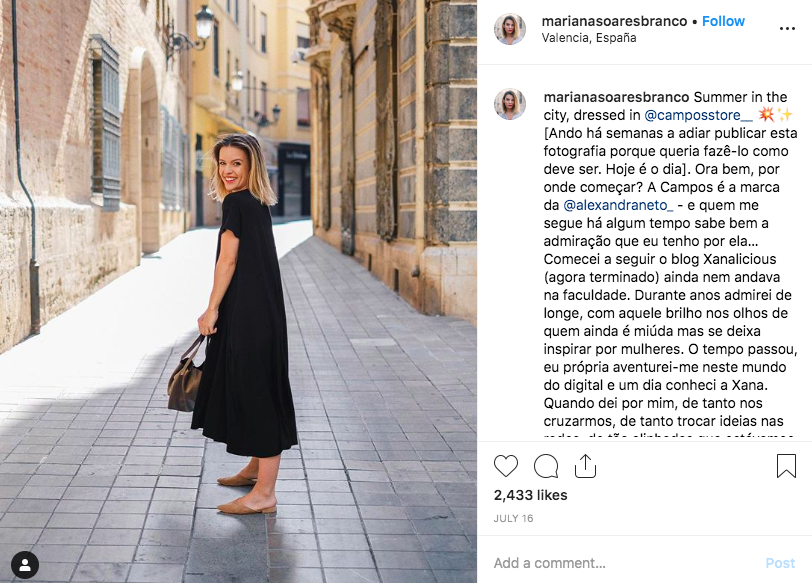 "Although I love Mariana's dress, it way too casual for an interview and loose-fitting," says Southern California-based stylist, Catherine Bachelier. "It's easy and breezy and works great for a weekend ensemble, but it's not right for interview mode. I would add a structured blazer and a patterned pump to ramp up the visual interest and much-needed crispness."
Bachelier isn't the only stylist to say that this look is too casual.
"My least favorite is this one, as it is completely inappropriate for a job interview unless you are interviewing for a bohemian immersion resort company," says Vanessa Valiente of VStyleBlog.com. "To make this work for an interview, add a belt to cinch in the waist with a matching pump. Top it off with intelligent earrings."
Executive producer and founder of New Orleans Fashion Week agrees that, while this outfit is great for a casual afternoon, as it stands, it's too casual.
"This outfit says more 'casual afternoon stroll through the city' than 'Impressing a potential employer," says Tracee Dundas. "Casual is good, but this is too casual."
2. The Jacket & Printed Maxi Skirt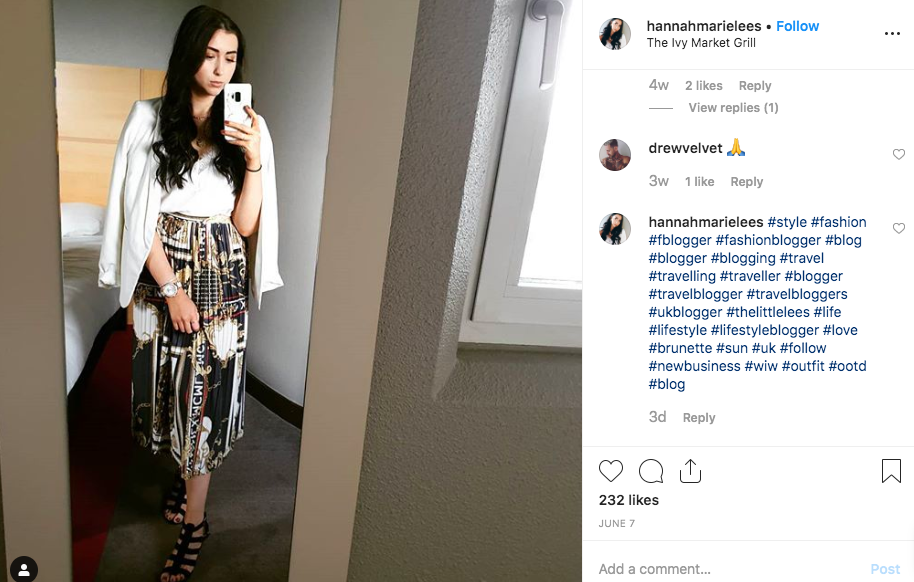 "Without specifying what industry or job title this would be for, this look feels the most appropriate for an interview all around as it hits all the checkpoints," says Valerie Halfon, the founder and CEO of Shop With Val, a wardrobe consulting business that operates in NYC and Houston. "It's professional, modern and flattering, plus brownie points for adding a little bit of flair (through the skirt)."
Halfon also adds that the solid neutral blouse is "versatile and timeless" with an appropriate neckline, while the blazer is "a key component that ties the look together and offers appropriate coverage when wearing a sleeveless blouse."
"The pleated midi skirt offers an appropriate length and fit, yet also allows you to show your personality and avoid looking 'generic' through the print — it's a great alternative to the pencil skirt" she goes on. "And the shoe is a fun option for summer and a great alternative to a black or nude pump. (Just make sure you have a pedicure when wearing open toe shoes!) These components together help strike the perfect balance between professional yet memorable."
Bachelier agrees that this outfit choice is a bold and beautiful one.
"[Hannah uses] neutrals (not too much color) but lots of visual interest [and she looks] feminine but bold and pulled together without trying too hard," says Bachelier. "I love a 'business outfit' that isn't a suit. You don't need trousers and a blazer to convey professional. In fact, Hanna's choice to wear a midi skirt, cami and blazer provides tons of texture while keeping it easy."
3. The Tank & High-Waisted Pants Combo

"I can't imagine what industry this outfit would be appropriate for when going on an interview, as it would not be considered business or business casual," says Halfon. "The blush paperbag pants are a nice alternative to standard dress pants. However, the top and bag fall short. I would never recommend wearing a one-shoulder, cutout top for an interview or to work at any time. It looks like a piece that should be reserved for a special night out. Even in a more casual environment, your outfit should still be professional. As cute as it is, there's nothing professional about it."
Halfon says that a solid black blouse with some kind of sleeve would be "a perfect alternative." And while the bag adds a fun pop of color, she suggests a structured tote that is large enough to provide sufficient space for a laptop or tablet, your resume and something in which to take notes.
"Keep in mind that, when you're interviewing, no part of your outfit should be revealing or distracting in any way," she says.
Thibodeaux agrees.
"I chose Jessica as my least favorite look not because she doesn't look really great but because her outfit is imbalanced — my guideline for choosing the perfect business look or rather interview outfit should convey professional before sexy," says Bachelier. "The individual fit of each piece is lovely but she would benefit from adding an oversized blazer with the tight-fitting pants and tank. This will counter tight top and bottom and also add more visual interest."
4. The Colorful Pant Suit & Graphic Tee

"While [the] type of job the interview is [an important factor], it is safe to say that a graphic tee speaks before you do," says Dawn Thibodeaux of DawnToday. "That said, this is my least favorite. If the position is in an art gallery, working in the fashion district in LA or a salon service (hair, makeup...) somewhere, this cheery yellow ensemble could be delightful, minus the graphic tee. Of course, this is not the ideal outfit for a conservative or traditional environment where bold, bright color is best left for after the interview, at a minimum."
Dundas agrees that this outfit is best for the creative industry.
"Who says work outfits have to be navy, black or beige?" she asks. "Spice it up with a pop of color or a graphic tee to show the fun side of your personality! Love love the Bucha tee! This is a great outfit for someone in the creative field or fashion industry."
5. The Mix-And-Match Pattern Blouse & Pants

"Mixing prints and patterns shows confidence and independence," says Dundas. "It shows that you're not 'cookie-cutter' and blindly following the crowd with your outfit choices. Depending on the job, this can translate to big-time bonus points. Showing confidence in your outfit choices for your interview can say a lot about who you are as a person and an employee."
Valiente agrees that this outfit says a lot about the person wearing it.
"This is my favorite of all the looks for its originality and attention to detail," says Valiente.
6. The Timeless Blouse & Pleated Skirt

"This look is fun and classy; the combination of colors is great," says Odile Iturraspe. "Green is a color associated with life, energy, growth, harmony and freshness. Combined with the white color, which represents light and perfection. The height of the hill is perfect, and the yellow color is complementary with the color of the outfit. The square shape of the bag and the bordeaux color are working very well with all the look."
Valiente agrees that this outfit is "versatile, yet rich and bold."
7. The Casual Blazer-and-Pant Set

"This is my favorite look for being the most versatile," says Valiente. "It translates to so many different industries, yet still stands out."
8. The Classic Wrap Dress

"This one is my favorite, for its versatility," says Thibodeaux. "The neutral color lets the personality and skill of this qualified candidate shine and take center stage. It's a win! I would, however, recommend a closed toe shoe for the interview."
And she's not alone in choosing this option as the favorite.
"Fox chooses a 'one-hit wonder' dress with a madly tailored look that speaks volumes about her confidence!" says Bachelier.
After all, just because you're going to an interview doesn't mean you can't be chic, adds Dundas.
"It's not necessary to wear a power suit to look like a boss!" says Dundas says. "A double-breasted coat dress delivers the same message of professionalism and is fashionable at the same time. Love the belt cinching her waist to show off her waistline — just because you're going to an interview, doesn't mean you can't be chic!"
9. The Floral Jumpsuit

"The floral jumpsuit is too casual for an interview," says Iturraspe. "The look diverts too much attention to the outfit. In order to make a good first impression, we should dress appropriately and separate our social image from our professional presence. Even if you're interviewing at a start-up with a very casual workplace, it's important not to dress down too much. If one wants to wear a jumpsuit, choose a solid color, such as black, navy or grey — and combine it with simple accent pieces. The handbag is cute, but not interview appropriate — a nice square bag in a solid color would be better."
Iturraspe isn't alone in feeling as though this jumpsuit is not right for an interview.
"I love a jumpsuit, but this one is more appropriate for date night," says Dundas. "Adding a jacket might make it work for the office, but to be safe, save summer floral jumpsuits for a romantic night with your love."
--
AnnaMarie Houlis is a feminist, a freelance journalist and an adventure aficionado with an affinity for impulsive solo travel. She spends her days writing about women's empowerment from around the world. You can follow her work on her blog, HerReport.org, and follow her journeys on Instagram @her_report, Twitter @herreportand Facebook.